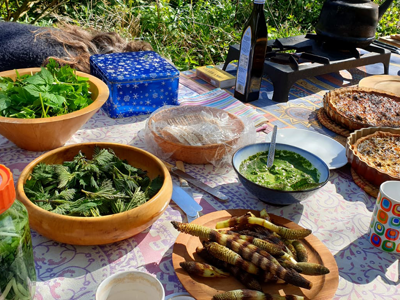 A Fascinating Introduction to the Edible Landscape
This short but illuminating introduction to the fascinating world of wild food foraging will turn your country walks into an inspirational journey of discovery as your senses become alert to the potential of nature all around you.
Under the expert guidance of Becca Flintham, an experienced educator with over 20 years in the field, you will
acquire and develop plant identification skills
learn how to be a safe and responsible forager
get new and exciting cooking ideas
learn about the amazing restorative and therapeutic properties of everyday plants
get great ideas for saving money on your weekly food shopping
be inspired to use plants in arts and crafts
With a deep and authentic understanding of the natural world, Becca will help you to reconnect with nature and find new inspiration in your everyday surroundings as she unlocks the mysteries of the bounty at your feet.
This event is run on specific days in the year. Watch this space and posts on social media.
Contact the education department on 01404 822 188 or escoteducation@wildwoodtrust.org to find out more.
Sign up here to receive our newsletter
;