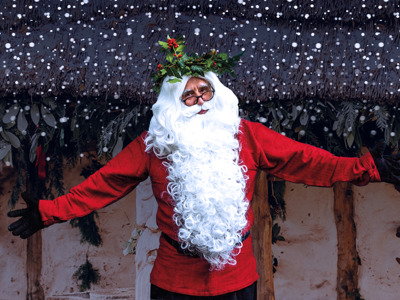 Experience Earth Santa at night on 22nd December.
Our Earth Santa grotto is a medieval twist on Father Christmas. Nestled in the scenic beauty of Wildwood Devon and featuring authentic Saxon homes, Wildwood Devon's Saxon Village sets the stage for an unforgettable holiday adventure.
Adorned with candles and lights, experience Earth Santa in a new light for an unforgettable family experience.
Cost and bookings
£10 per child
One child per slot (a slot is up to 5 minutes)
Friday 22 December 5pm - 8pm
What's included
Exclusive visit with Earth Santa
Gift: tree seed and bookmark
Personalised rune to hang on your Christmas tree at home
Things to know before you book
Santa's grotto tickets must be purchased in advance, and no reserving of places without payment.
Café hours may vary, refreshments may not be available at time of visit.
Tickets cannot be resold, exchanged, transferred to another date or refunded once tickets have been purchased unless the event is cancelled. Please be sure that you choose the correct date and time slot when making your booking. Tickets are non-transferable.
Sign up here to receive our newsletter
;