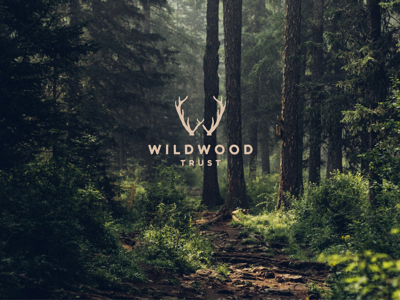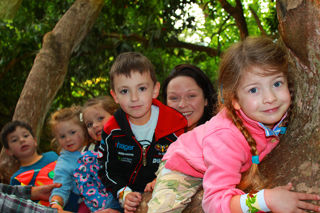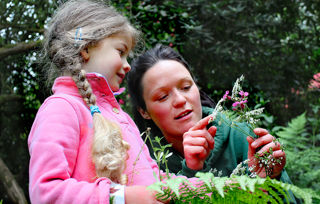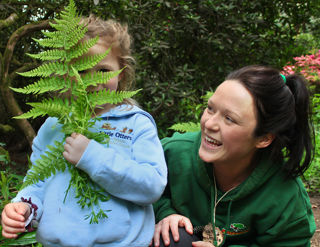 PlayWild is a welcoming and friendly group for children, under the age of five, and their adventurous grown-ups to share some healthy outdoorsy (sometimes muddy!) fun within the glorious grounds of Wildwood Devon.
We gather in the PlayWild garden one morning per week before getting stuck into a session packed with free play and exploration, cooking, crafts, games, music and stories. Led by Ethan, our Outdoor Education Instructor, children are encouraged to engage with the natural world around them and are given the opportunity to learn some practical life skills along the way.
Whilst the emphasis is on sharing these unique experiences with your little ones there is often time for grown ups to grab a cuppa and enjoy a chat with some like-minded parents, grandparents, carers etc.
Over the winter months there will be a suitable space undercover to hide away from the worst of the weather.
Sessions
Sessions will run in blocks, usually between five and seven weeks depending on length of the term, and cost £7 per session. To allow for consistency and progression we only take bookings for full or half termly blocks of sessions and cannot offer single sessions.
Our current sessions are as follows; you can choose from either of the below:
Term time
Wednesday – 10am until 11:45am
Thursday- 10am until 11:45am
The group is aimed at children between one and five years old, however if you feel your child would benefit in attending before they reach the age of one please do come along. Babies are of course welcome but the rough natural terrain necessitates off road sturdy pushchairs or slings/carriers.
Please note that children remain the responsibility of their accompanying adult/s throughout the sessions and to ensure the safety of all children we advise a ratio of one adult to three children.
Booking:

Click here to book Wednesdays
Click here to book Thursdays
Alternatively, please email: escoteducation@wildwoodtrust.org or phone:  01404822188 or 07305882077
Other Useful Information
Things to bring with you:​
Hot drinks include teas, coffee, hot chocolate and squash are provided but we advise that you bring along additional healthy snacks or drinks that you and your child may require for the session.
To fully enjoy the range of activities on offer children and adults must be dressed appropriately for the changeable weather. This should include sun cream, hats, sensible footwear, long trousers and sleeves in summer and warm layers including waterproof coats and trousers, boots, hats and gloves etc.
Payment Policy:
If you decide to cancel your booking we require that you give a minimum of two weeks notice prior to the term starting provided in order to receive a full refund.
Whilst babies under walking age are free we also offer sibling discounts and childminder discounts, please email us for further details.
The PlayWild sessions are designed around a programme of multiple dates therefore if you are unable to attend a session due to illness or holidays etc refunds and transfers do not apply.
If in the unlikely event that a session is cancelled by Wildwood Devon due to a circumstance outside our control such as extreme weather conditions or the park is forced to close for whatever reason we will endeavor to transfer your booking to another convenient date for both parties.
If you decide to cancel your booking we require that a minimum of two weeks notice is provided in order to receive a full refund.
Sign up here to receive our newsletter
;